First off, thanks for visiting this thing. I'll have to confess that I'm a CD guy at heart, but alas, given the mountains of new dreck out there, I think its worth our time to explore the rarities that have yet to pop on to the commercial CD market. With the aid of my trusty USB turntable and these dang internets, I hope to bring some of that hidden vinyl magic out to the fore. So let's begin!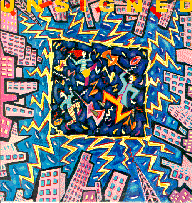 "Epic Presents The Unsigned," Various Artists (1985)
For more info, check out
this helpful page
. The album consists of an assortment of unsigned artists from the States (although all but one are from east of the Mississippi). The styles are all over the place. Some tracks are punky power pop, while others are reminiscent of Huey Lewis and the News. Similarly, the contrast between the techno foray of Free World's "Supply and Demand" could not be any more different from The Pressure Boys, the 'cowboy punk/funksters' that gave us "Where The Cowboys Went." Overall, its a fun mix. It may lack cohesion, and some artists might be more memorable than others, but it gives us a glimpse into the mechanics of hip underground college rock in the mid-1980s.
1. Sussman Lawrence Band- Torture Me
2. The Reducers- Let's Go
3. The Pressure Boys- Where The Cowboys Went
4. The Rothchilds- Long After Summer
5. The Criminals- Under The City Lights
6. Blue Sparks From Hell- Real Man's Car
7. The Radiators- This Wagon's Gonna Roll
8. The Crime- Mad About You
9. Visions- Love Potion
10. Free World- Supply and Demand
Download
(36.5 MB)