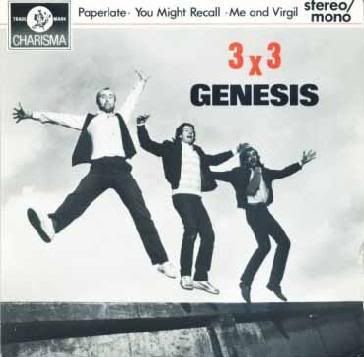 "3 x 3," Genesis (1982)
And now, an EP. This one has an interesting story that I'll share with you before heading out to class. Originally, this came out in the UK as an EP. The States got the tunes too, but they got 'em in the "Three Sides Live" compilation. As you might imagine, these studio tracks were on the fourth side (along with two extra tracks).
The funny thing is, this was never released on CD in and of itself. The first time we saw them was on the original CD issue of "Three Sides Live." But when this set was remastered, the non-live tracks were omitted. Then, when the
Genesis Archive #2 1976-1992
box set popped up, we go two out of three songs: "Paperlate" and "You Might Recall." The last song, "Me and Virgil," was missing in action.
Later this month, we'll see the release of
Genesis 1976-1982
, a box set that collects all of the bands albums from that period (in addition to EPs and singles and b-sides), remixes and remasters them and places them in one expensive package.
So, if you're willing to sacrifice a bit of sound quality for the sake of saving a few (hundreds of!) dollaroos, dig the original "3 x 3" EP:
1. Paperlate
2. You Might Recall
3. Me and Virgil
Download
(13.61 MB)