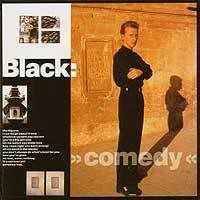 "Comedy," Black (1989)
Black Comedy; get it? Admittedly, it's a corny gag, but you've gotta expect something like this from a man like Colin Vearncombe. But I bet you weren't expecting
me
to post two back-to-back posts that dealt with the same artist. I know, it's shocking.
But do you know what's even more of a shock? The fact that the LP version of "Comedy" differs substantially from the CD issue. If you take a stroll down to Amazon, you will find
Comedy
, and you will see that it has 12 songs. But, if you scroll down, you'll note that the LP rip I've uploaded has 10. Am I ripping you off? Did Black rip us off? Did the record companies rip us off? What's going on here?
The answer can be found by looking at Black's first album, "Wonderful Life." If you were to scroll down, you'd see that the debut album is bookended by two songs, "Wonderful Life" and "Sweetest Smile." If you take a gander at the tracklist on "Comedy," you'll see that these songs are also present here.
So he's re-hashing old ideas?
Well, sorta... but no. See, everyone knew that those two songs had a great "hit" potential. As such, it was decided to include new versions of these tracks on the LP and cassette versions of Black's second album.
But the CD version was radically different. Not only did it omit those two songs, but it also left off a tune called "Reunion." In their stead, compact disc buyers received 5 totally different tracks. This tells us that Black was
not
out of ideas. Instead, a loopy record company strategy totally sent his discography on a kinked-out path.
As a result of this scheming, there are now three songs that are lost to digital-age fans. Or are they? The 1989 re-recording of "Wonderful Life" can actually be found on the great but inconsistent
12"/'80s
compilation. The other two songs, sadly, are lost to memory (and outdated formats). But that's when I come in, ready to exhume a few favourite goodies for the sake of the greater good.
Personally (and this is just my humble opinion), I dig the re-recorded version of "Wonderful Life." The vocals are bit more emotional, and on the whole, the song reminds me of being on a tropical island vacation... only to have it rain. Irony at its most beautiful. As for the new mix of "Sweetest Smile," I still don't have a firm opinion. It's about as gripping as the original, only shorter. So there we go.
As a whole, the album (again, this is just my opinion) doesn't seem as strong as "Wonderful Life." That said, it's a heck of a lot better than some of it's contemporaries (that means you, Paula Abdul and Rick Astley!). It makes a good compliment to the debut album, but don't expect the overall catchyness of that release on this sophomore effort.
But I'm rambling now. You want the music. So here you go:
1. Wonderful Life (Re-recording)
2. You're a Big Girl Now
3. Reunion
4. Whatever People Say You Are
5. Sweetest Smile (Remix)
6. Hey, I Was Right You Were Wrong!
7. All We Need Is the Money
8. The Big One
9. Now You're Gone
10. You Don't Always Do What's Best For You
Download
(38.82 MB)